WooCommerce variation swatches Plugin Mostly used by an entrepreneur who has an online shop. Modern people want to save their time, so they have become reliant on online shopping.
Through online shopping, you can buy your desired product virtually. You have to go to your desired shopping website and see the variations of the product and choose the product and order them home. By doing this, it saves your energy and time.
Mostly Businessman, who have online shopping website, generally use WooCommerce plugin to handle or manages the sale of all the products of an online shopping website.
Show the variation of a product is must for an online shopping website. To show the variation, we use WooCommerce variation swatches plugin that helps you to keep all of your variations of a particular product in swatches form.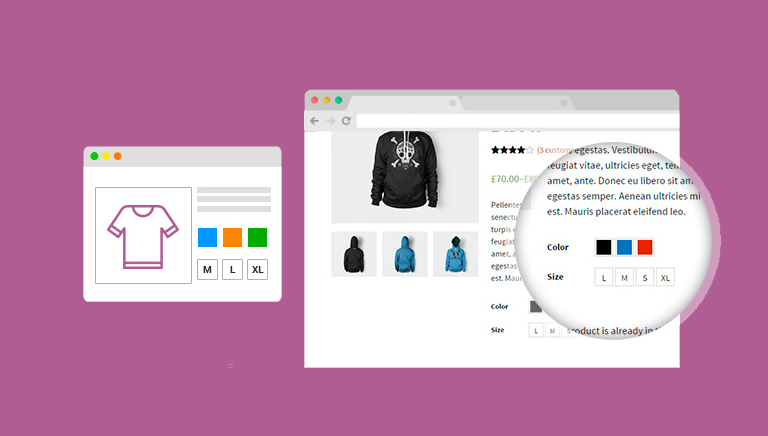 Variable products in WooCommerce help you to add variations like color, price, size, images or any specific feature you want to show. By default, WooCommerce show product variations as a drop-down list. Though it's simple but ugly and your customer will not have the proper overview of the product they desire to buy. Using Image and color swatches allows a more excellent way to demonstrate available size, colors, styles of a product to the customer.
It is better for both customers as well as sellers in selling their product. In a word, this extension helps to display the product variations more elegantly on the website and customers will select the product within the variations.
Common features of a WooCommerce Variation Swatches
Must have a setting in admin sections to allow admin to activate the setting and all variations to show on online shop page.
Admin will have full privileges to demonstrate variation anyplace they want to show.
With WooCommerce Variation Swatches plugin, you will be able to display your product color or images in all common size or can display them in square or round mode.
The plugin must have admin UI which will privilege you to set the image, color or other options in no time
The plugin should display color or image swatches on shop/category/tag archive pages.
Last not least, the plugin should adapt other popular themes and plugins of WooCommerce.
Now let's talk about some best WooCommerce variation swatches plugins that will benefit you in growing your business and create a good representation of your online shop.
WooCommerce Variation Swatches
WooCommerce Variation Swatches is the most popular attribute variation swatches plugin in the WordPress plugin directory. The plugins is an awesome creation by GetWooPlugins team keeping in mind to create new experience for WooCommerce product variations.
Key Features of WooCommerce Variation Swatches
Display Swatch in Catalog / Archive Page
Variation Image Tooltip in Catalog / Archive Page
Text Tooltip in Catalog / Archive Page
Integrated With Quick View
What to Display  Single Selected Attribute on Shop page? This will help!
Set MORE Link To Align Attribute Variation Swatches
Change Product Gallery Image Selecting Only Color Variation Like Amazon and Aliexpress (Or Selected Variation)
Generate Variation Link
Product Based Swatch Customization
Color Variation Swatch For Product Page
Image Variation Swatch For Product Page
Button / Label Variation Swatch For Product Page
Radio Variation Swatch For Product Page
Highlight You Special Attribute
Product Page Variation Image Tooltip
Customizable Tooltip Text
Blur/Hide Out of Variation
Rounded and Square Shape For Variation
Well Documented
Variation Swatches for WooCommerce

Themealien develops variation Swatches for WooCommerce is a useful pretty handy plugin that allows you to customize the product variation attributes which is much more elegant than WooCommerce's default dull style. This plugin also allows you to choose a style for each attribute such as color, image label, etc.

With the plugin's friendly and easy User interface you can add default color, image or label to each attribute in the attribute management page of the plugin. Moreover, it also can help you to choose the right style for the quick-add attribute in the editing product page of the plugin.
Elegant Features of the plugin
The plugin is free to use, and it is pretty hand to use the functions for free for beginners. But if you are highly serious with your e-shop, then you must use paid tools like plugin mentioned above.
It's packed with elegant styles that completely inherits WooCommerce theme. So there are no compatibility issues.
You will get options to build new attributes such as color swatches, text swatches, label swatches, image swatches, global attribute management and more. You will also be able to create new attribute swatch in product editing page.
Color and Image Swatches for Variable Product Attributes

Good news is that this plugin is available in both free and pro versions, but as discussed earlier, there would be certain limitations while using the plugin. With the help of this plugin, you can create color and image swatches to demonstrate remaining product variable attributes such as colors, styles, sizes, etc. With installing the plugin, you would be able to replace the drop-down fields.
Free features of the plugin
Its compatible with their Support Ticket system by Phoeniixx plugin
Anyone can operate it to make unlimited color swatches
It only works in variable products
Paid features of the plugin
You can place the attribute label text above or below the attributes. The plugin allows you to make swatches using color, image, icons (grid of 300 icons library is available with this option), texts, etc. you can also make swatches globally.
You will have the power to use taxonomy colors and images to demonstrate global attributes of each product.
This plugin is packed with swatches which are customizable by changing the default swatch border color. Swatch hovers color, swatch color, and actual swatch border color, etc. Swatch type size is also available to be adjusted as per choice.
You will have options to set the icon, image, color, icon, text swatch thumbnail size ad much more.
WooVina Variation Swatches
WooVina Variation Swatches is a plugin provides a much nicer way to display variations of variable products. It convert your normal variable attribute dropdown select to nicely looking color or image select. You can display images or color in all common size. Display them in round or square mode.
Features of the plugin:
Supports color/image/text variation swatches and dropdown select.
Woocommerce improved variable product attributes and attribute swatches.
Global color or image values for attributes.
Inbuilt color/image product filter.
Works on mobile devices.
Different sizes of swatch from small to large.
Square as well as round swatch support.
Option to display option name below swatch.
Show selected option name on single product page.
Shows color or image swatches on shop/category/tag archive pages.
Inbuilt direct variation link feature.
Change product image on swatch hover on category/archive pages.
Color , image swatches compatible with [product_page ] shortcode.
Show more link if swatches number are greater than defined.
Slider for shop swatches if swatches number is higher than set value.
Note: This plugin requires the WooVina theme, PHP 7+ and WooCommerce 3.x
Final Words
Shoppers do like the visual galleries or representation of product attributes at the time they visit an online shopping website, and it can make the customer feel clean and polished. So Online shop owner or E-shop owner must have to add paid WooCommerce Variation Swatches plugin in their WooCommerce plugin if they are serious with their Business.