When it comes to WooCommerce, it only provides default and traditional email templates to all the emails.
Fortunately, there are a bunch of impressive email customizer plugins available in the market for making elegant email templates for WooCommerce emails.
Let's meet some of them.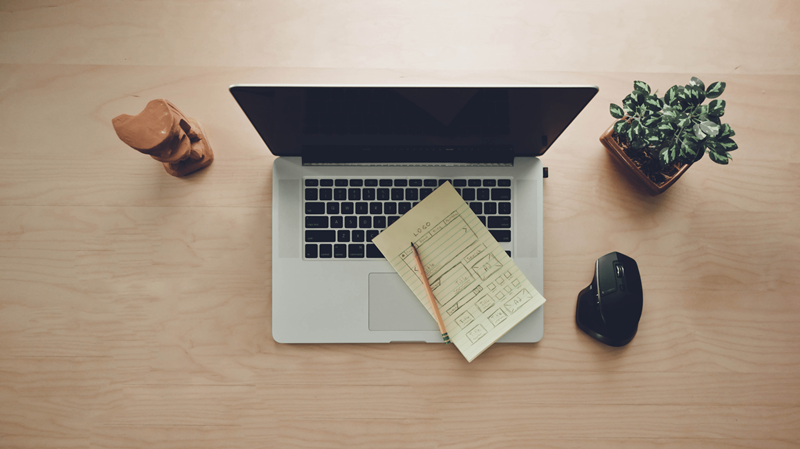 Why Customize Your WooCommerce Emails?
Just think of your WooCommerce online business. You've done all you can to make it unique and elegant. To stand out. To make good customers. Good sales!
Yes, that's a lot of effort. And then, you have your WooCommerce store sending the same old emails to the shoppers. Those crappy unattractive info emails which don't even give the feel to take a second look.
The one thing to take care while working hard to make your business a brand is to avoid ignorance. Even the emails you send in your business domain reflects the quality of your business. So, it is important to create emails which are impressive and stand out from default emails which every other store owner sends. You should know and take good care of the look and feel of emails being sent from your business. This becomes really relevant with online stores sending emails to their shoppers, most importantly, the transactional stuff. That makes these emails the pivot point of your business, as it constantly interacts with your counterparts that is the shoppers.
This is where lays the relevance of this article which gives you the list of top 5 plugins to customize your WooCommerce emails. With these plugins, you can get rid of your traditional WooCommerce emails to replace them with elegant and impressive new email templates. Thus, you can bring in more customer engagement and further return of your customers for regular purchases.
Customizer Plugins for Your WooCommerce Emails
1. WooCommerce Email Customizer
WooCommerce has limited its emails with no customization possible within its settings. But, it itself has developed a plugin for customizing the WooCommerce emails. With the plugin, WooCommerce helps its users to customize emails without the help of code.
While it is simple to customize with the plugin, it restrict editing the text and other elements in the email. The plugin only lets you make visual modifications to the email designs. Even though this Email Customizer is an apt choice for users who go for native style customization, a price of $79 for a single site may feel like a bit too high.
Now, let's look at the key features of WooCommerce Email Customizer:
Make visual customization to all email designs
(You won't be able to edit the text)
Customize with the built-in WordPress Customizer
Click, drag and drop customization
No need to have any knowledge in code
WooCommerce, with this small plugin, lets you send elemental yet neat and fresh emails to your shoppers. They at WooCommerce always like things to be simple. That's the reason they make plugins with such simplicity with minimalistic customization options. If you are in for a simple yet clean email customizer, you can surely go for the WooCommerce one.
2. Email Customizer for WooCommerce from ThemeHigh
The Email Customizer from ThemeHigh helps you to customize WooCommerce Transactional Emails sent to both shoppers and admins using a visual Template Builder. You can display the emails in different styles, layouts, and images, GIF, buttons, social media icons, and much more other elements.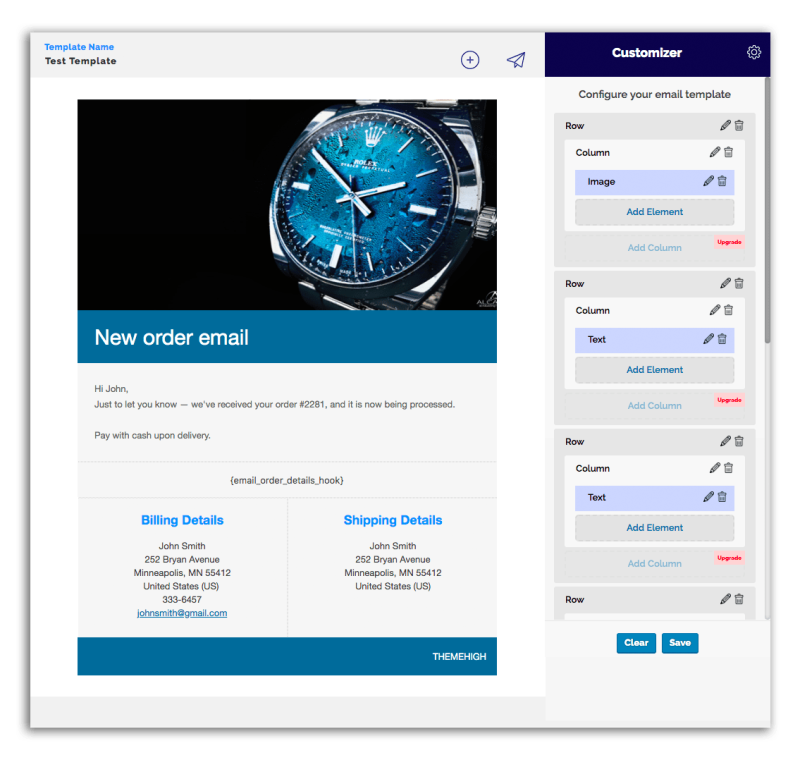 With this email customizer, you can create custom templates for WooCommerce emails and assign them to emails later. With an email template builder with a freshness in design and functionalities, you can add unlimited rows, columns, and elements as necessary, and customize them according to your needs.
The plugin comes with options to add more than 15 element types to an email template. That includes text, image, GIF, paragraphs, headers and footers, social media icons, buttons, etc., and the default WooCommerce elements to fit into the fresh templates. All you have to do is choose the required from the sidebar, and add them to the template.
In the settings, you have a separate section to assign email templates to both the customer as well as admin emails. You can also display the customer, billing, and shipping info in style with various font stylings and image backgrounds.
Following are some of the features of the email customizer in brief:
Easy to build email template builder for easy template customization
Add an unlimited number of rows and columns
Customize customer emails and admin emails
More than 15 email elements including text, images, buttons, dividers, etc.
Live preview the changes on the template builder
Custom templates for all WooCommerce emails
Placeholders to display dynamic user and order data
You can add logos, images, GIF, banners and social media icons and build emails to match your online store design
Add customer, billing, and shipping info in different font stylings and image backgrounds
Send a test mail to check if the template works properly
3. YITH WooCommerce Email Templates
YITH's WooCommerce Email Templates plugin lets you customize your WooCommerce emails with pre-built templates that provide a further professional appearance to the transactional emails your shoppers receive after they register on your site and after they order a product.
The email templates from YITH lets you make customizations on welcome emails after registration and order confirmation emails sent to shoppers of an online store. You can add a logo, set colors, edit the typography, and add social media buttons to headers and footers.
Although this 'editor' lets you make custom modifications, it doesn't give you the freedom to make changes in the layout or add any custom elements. You will have to get satisfied with the inbuilt settings of the email template editor. Yet, you can choose the YITH templates if you need a simple email customizer without much creative mind or advanced customizations.
Features of YITH Email Templates include:
Assign an email template to each WooCommerce Email (for shoppers only)
Choose from 4 pre-built email templates which you can modify
Edit the colors and typography and see them live with a preview email
You can also send a test mail to know how the template really looks
Add a menu to the header of the email
4. Kadence WooCommerce Email Designer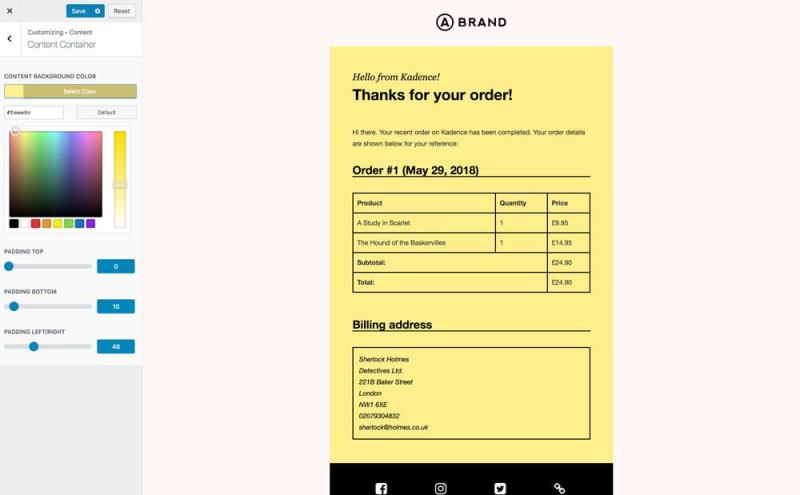 This email designer from Kadence is a free plugin available in WordPress.org. You can use it for instant visual customization using the native WordPress Customizer. Since it is a free plugin, you are restricted to only editing the text and controlling the colors, fonts, background, borders, etc.
You can also import from pre-built email templates as in the YITH email templates. The plugin also has options to import templates from the test site to the live site. You can see a live preview of the email while editing, and can also send a test email for viewing the real email.
The features of Kadence Email Designer are:
Easily control colors, fonts, background, borders, etc.
Live preview the edits with the native WordPress customizer
Preview your emails in real inboxes and different devices with the test mail
Edit the heading, subtitle and body text
Import and use from pre-built email templates
5. Drag-and Drop Email Customizer with Email Builder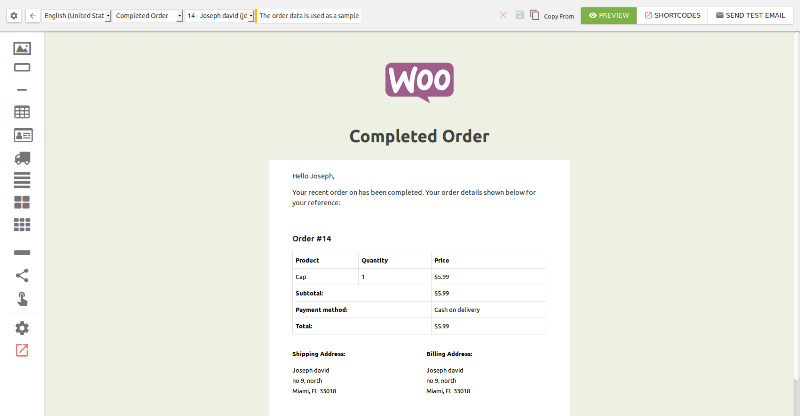 The drag and drop email customizer from flycart lets you customize WooCommerce email order notification emails using a drag-and-drop editor. You can add a logo, header, footer, body text, paragraphs, social media icons, images, etc. using an inherent drag and drop builder.
Even though you have the option to add more than 15 email elements, you will have to customize the template for every customer email you send specifically. This makes you customize emails every time you send an email. However, this one plugin will come in handy if you need to show different content to each shopper specifically.
Some features of the plugin include:
The drag and drop email builder
15 or more elements to customize the email
Short code to display dynamic content
Add logo, images, header, footer, etc.
Live preview and test email to see the looks of the email templates
Wrapping Up
When it comes to plugins in WordPress and WooCommerce, there are multiple options for a single functionality. That too, free plugins and paid plugins. That makes it difficult for a user to choose the right plugin. We hope this list helps you to find the right plugin according to your needs. Although there are a lot more plugins out there sharing the same functionality, we have handpicked 5 plugins out of them which gives better features, pocket friendly prices, and good support. Let one of these plugins be of good use to you. Wish you with happy conversions!