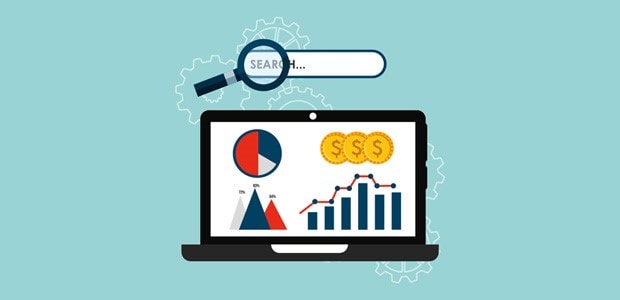 Following WooCommerce SEO tips will help your website to be on top of Google search and improve revenue for your business.
9 SEO Tips: Run a Successful Sale on Your WooCommerce Website
1. Optimize product titles and categories
Headlines are important for communicating with both customers and search engines. Not only are they the first things customers encounter when looking through your products, but they also play an important role in helping search engines try to determine which pages will prioritize searchers.
To optimize website titles, you can go to your product or portfolio page in WordPress. Yoast SEO displays an area below the editor with two parts: Readability and Focus Terms.
If you expand the back section, you'll see a series of red, yellow and green lights indicating SEO rankings for various features. Look over them for any optimization related to your title, then make the proposed changes.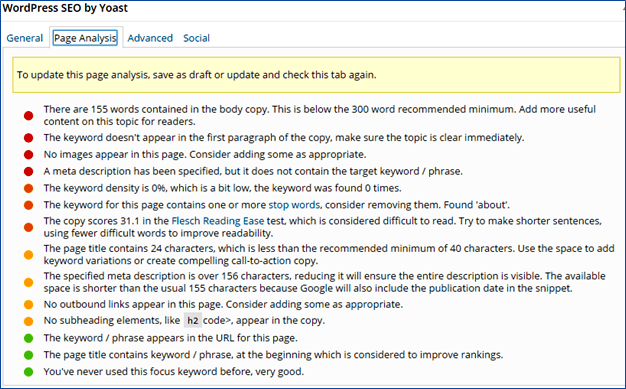 After making a few changes to the product title, you can see that the rankings in Yoast change from red to green, which indicates you have done a better optimization.
2. Use Meta Description
Meta descriptions are the short paragraphs that appear below a title in search engine rankings. The description gives searchers a brief preview of the page content before they click on the title.
As search engines have evolved, meta descriptions become less important for achieving excellent SEO. However, it still plays a role in determining your website rankings, and it's extremely helpful for users in helping them determine whether a page actually contains what they are looking for.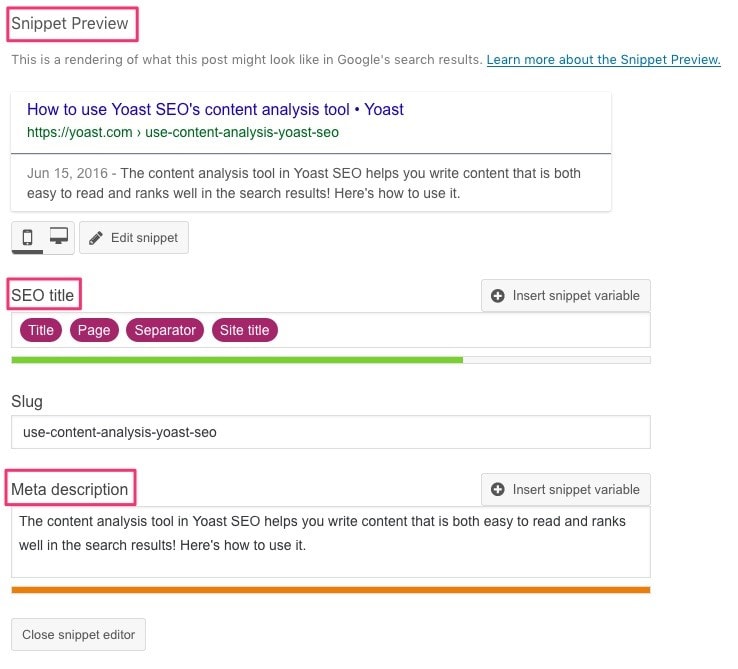 In Yoast SEO below the editor, you will find a section titled Preview Snippet. If you select the Edit Snippet button, you will be able to add meta descriptions for your product.
3. Optimize your Slug
Your product slugs are separate URLs for each of your products. They are the key to helping search engines and potential customers determine what your product is and, when optimized, can help improve your rankings.
Slug is most useful when they contain keywords for related products.
Yoast SEO will rank your keywords based on a number of factors. For instance, we see that the keyword we have given our blog is trivial and can improve the keyword by making the proposed changes.

4. Activate Navigation Breadcrumbs
Breadcrumbs is a navigation tool to make it easier for customers to get around your store. The feature usually appears at the top of the page, showing the location of the currently visited page and the link to return to a previous page.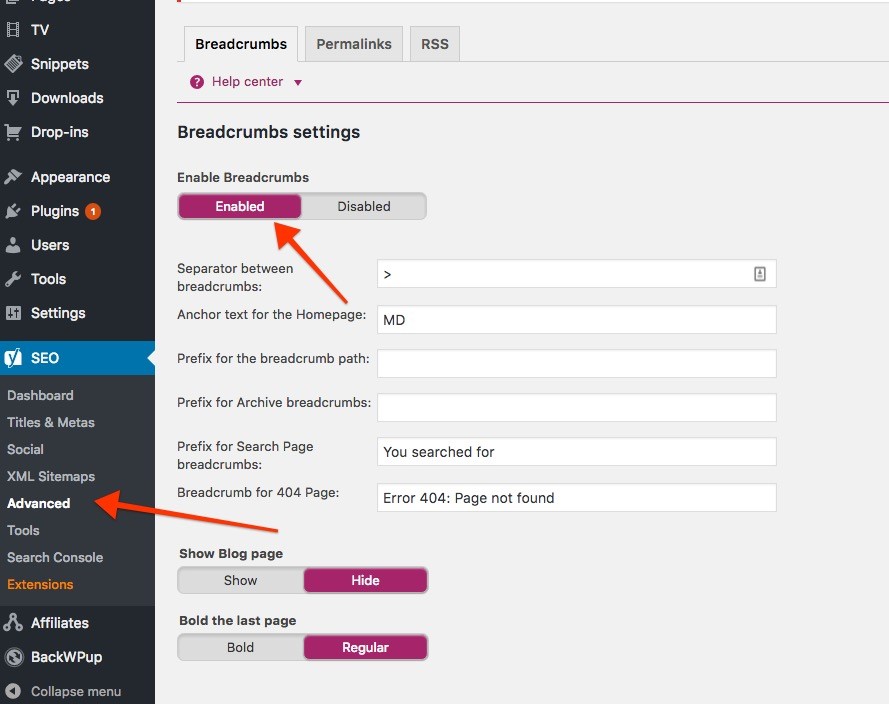 5. Use Categories and Keywords
The catalog is a page where customers can view all the same classified products. This is a strategy to prevent individual products from competing with each other when customers search for a generic term applying to multiple products.
For example, if customers want to see your entire shirt collection, they simply search for "shirts". Of course, you don't want each of your shirts competing against each other for top results. Instead, you can show visitors a single page listing all of your shirts.
6. Add 'Alt' text to images
Alt text (or 'alt') is displayed on your web when your image cannot be seen. If some images cannot be loaded for some reasons, the browser will either display a caption containing the replacement text or display it in a placeholder for the image.
Alternative text is extremely useful for people who use screen readers, as they will read image descriptions. This way makes your store more accessible, which is always a top concern of any website owner.
Additionally, alt text helps search engines to index images properly. Including a keyword in your alt text can also help your images rank better, thus improving the overall SEO of the relevant page.

7. Track your Google Analytics number
Your website's Google Analytics includes all data about your website users to help you enhance SEO. You can find out how many visitors to your site, which pages are the most popular and how your visitors are being redirected to your site.
Although installing Google Analytics does not improve your SEO, it helps you leverage the information about your site as much as possible. You will be able to track your keywords and plan for future keywords, view your overall SEO stats, check your website speed and more.
8. Optimize your site speed and performance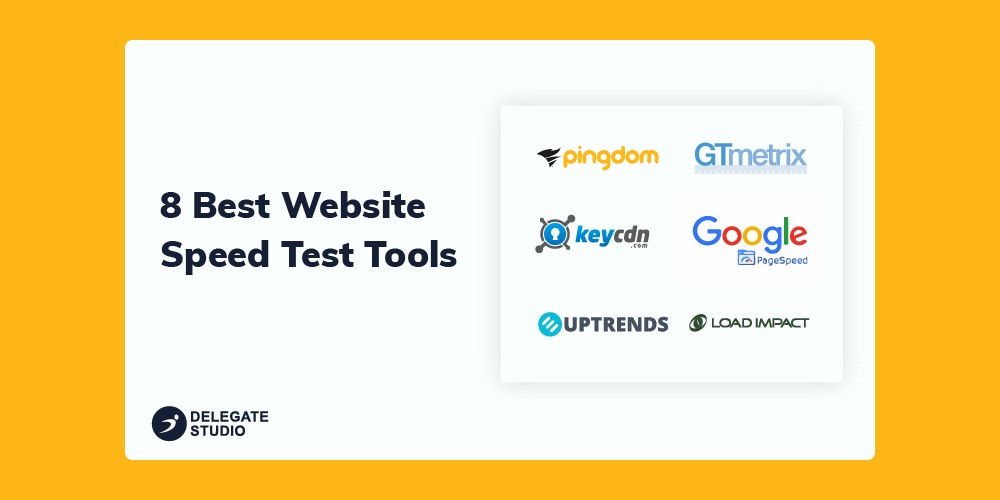 As you may know, your page load time really affects your SEO. Google takes the page speed factor into its algorithm to some extent and therefore, a slow site will not rank highly.
Therefore, the longer a page loads, the more visitors will abandon it. To check you site speed regularly, you can use tools like Google PageSpeed ​​Insights, Pingdom and Load Impact.
All of WooVina's demos are optimized, from images to code quality, that's why WooVina gets the highest grade in speed testing tools. If your website loading slow, you can try use WooVina Speed Optimization Service to get the help, with small cost your website will also get the highest grade in speed testing tools.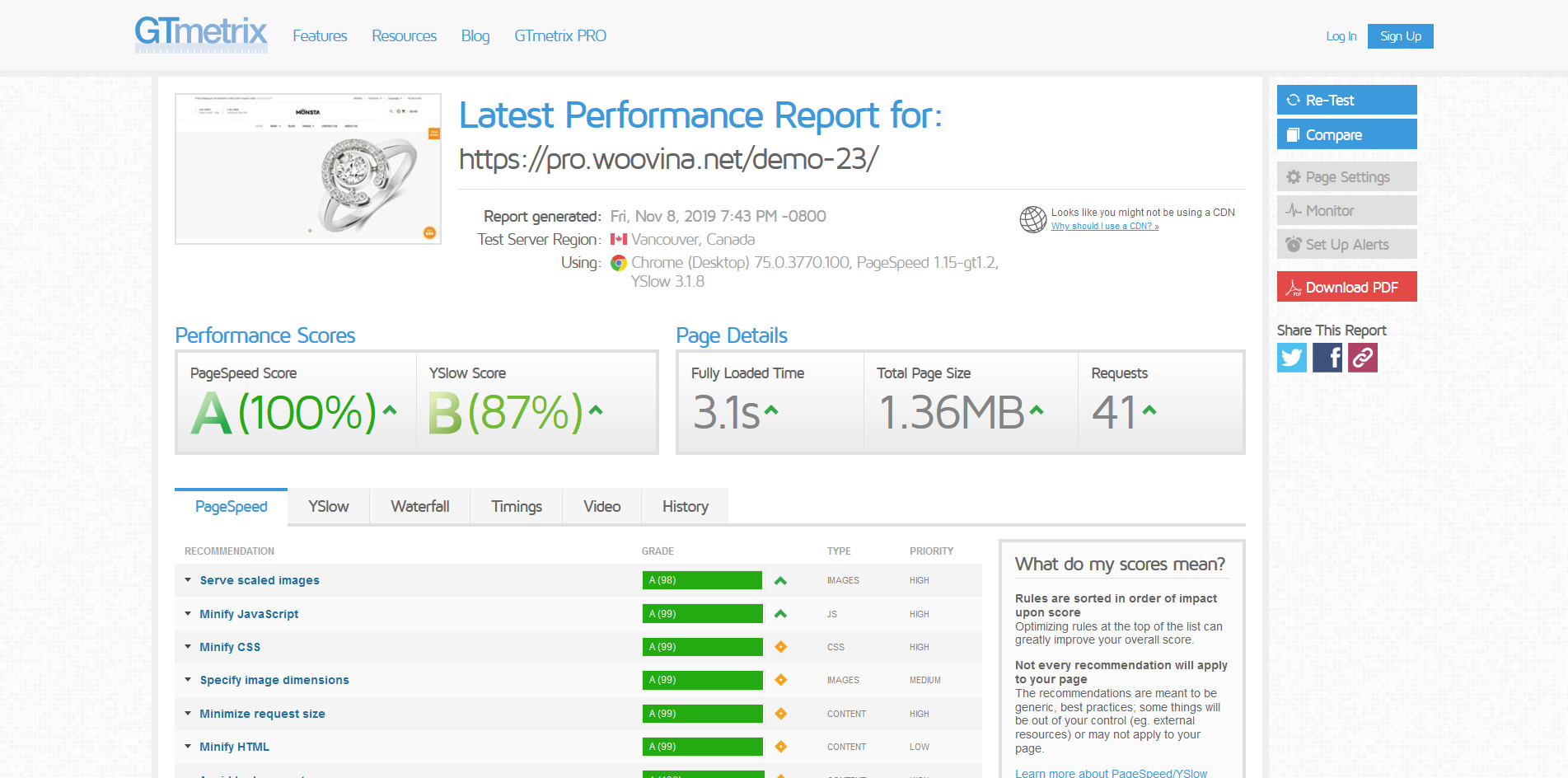 9. Maximize your website security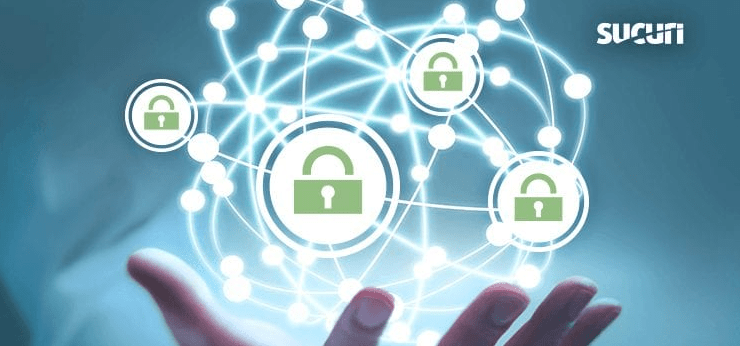 It is the best to keep WordPress, the interface and all plugins (including WooCommerce) up-to-date. Updates often fix security holes and other errors. Therefore, failure to perform updates may mean malicious users and visitors can take advantage of any known vulnerabilities.
Performing regular security scans will look for evidence of attacks on your site. A security plugin like Sucuri would be a very useful tool for this.
Final Words
In brief, this article has mentioned common SEO strategies that you can apply to your WooCommerce website. It solves SEO from a variety of perspectives including optimizing your content, improving the organization and navigating your website to maintain high website speed and solid security.
You can also get a better ranking with a nice WooCommerce website. There are lots of stunning WooCommerce Wordpress Themes on WooVina.com that can improve your site outlook and attract more visitors. Let's check and find what suit you!
Moreover, your purchasing can even be more perfect when applying coupon codes on Couponupto.com. They proudly have a partnership with Woovina.com in providing profitable discounts, coupons and promo codes for customers as a way of saving money. Don't hesitate to click WooVina Store on Couponupto to get hot deals.